Home
Up
Galitzin
Curve
Steamtown
Sand Patch
Sand Patch
Rain!!! We stayed the night in Altoona and left for Sand Patch on Labor Day morning. My schedule was simple enough, catch a few trains a Sand Patch, then drive home to Michigan, Mother Nature had other plans. Severe thunderstorms were forecast, but we didn't know about them until Johnstown. They hit with a vengeance and we were down to about 20-25 mph for some good stretches of road. At Sand Patch I hiked down to the East portal and waited in the rain. I was rewarded in 15 to 20 minutes with an Eastbound Amtrak. The skies cleared when we drove around to the West portal where we caught a Westbound TOFC. All of the images on this page are video-captured from our Sony 8mm camcorder.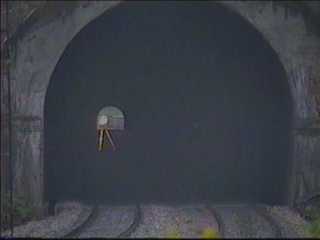 An Eastbound Amtrak train is about to enter the West portal of Sand Patch.

The 2 Genesis engines leading the train of Superliners and material handling cars emerge into the rain.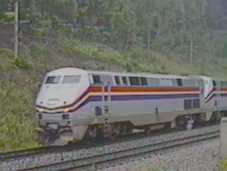 Side view of the AMD-103's.
MPEG video of this Amtrak train going by, click here.
A Westbound TOFC/COFC stops just outside of the West portal to uncouple the helpers on the back-end.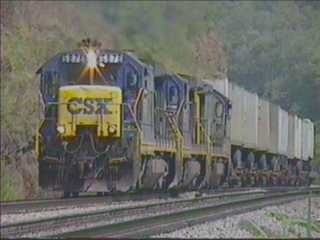 The 3 GE's are accelerating Westward with the pushers giving a final assist.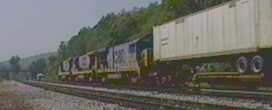 Looking toward the tower at Sand Patch.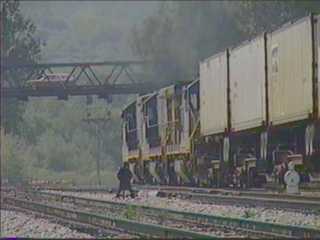 This auto bridge offers a good vantage point, but the tunnel cannot be seen from it.
MPEG video of this CSX intermodal, click here.